Successful 49th Carifta Games ends with record medal tally by Jamaica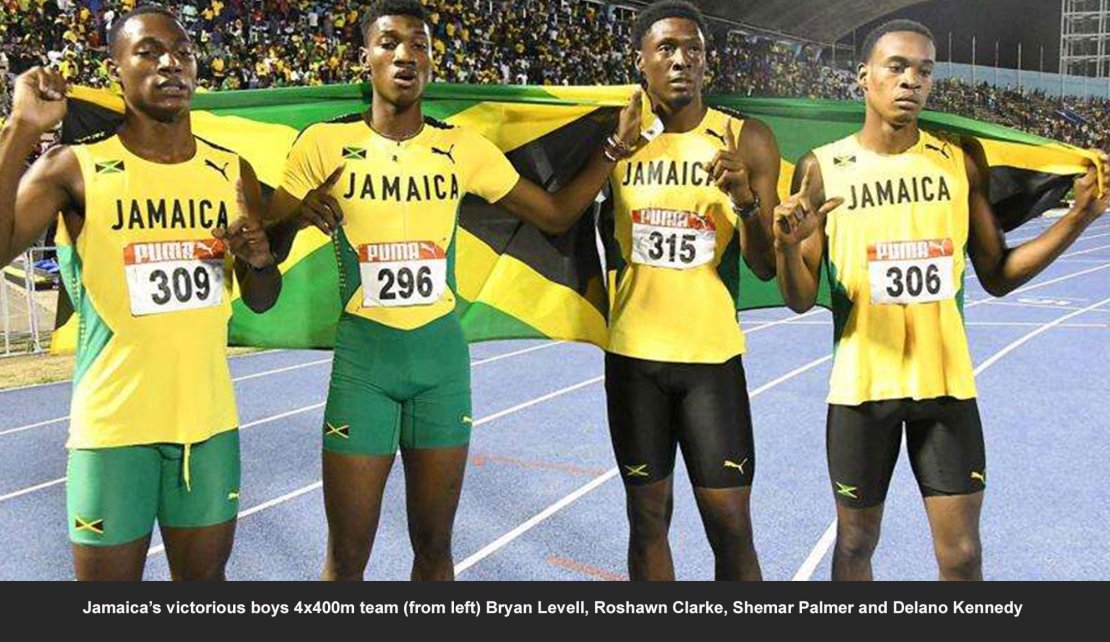 KINGSTON, Jamaica April 19, 2022 - As the curtains fell on the 49th staging of the Carifta Games at the National Stadium in Kingston, on Monday, host country Jamaica continued its dominance over the competition to maintain its record of topping the medal table at every Carifta Games since 1985.
Final Carifta Games 2022 medal standings; Jamaica dominates again! https://t.co/k117gb1mWr

— World-Track and Field Website (@worldtrack) April 19, 2022
The Jamaican team ended the competition with an overall 92 medals, including 45 gold, 29 silver and 18 bronze, well ahead of the next best team, The Bahamas, who were second on the medal tables with 17 medals — four gold, six silver and seven bronze.
The #CariftaGames #TeamJamaica 🇯🇲 4x100m sweep 🧹🧹🧹🧹🧹🧹🧹🧹#DigicelCarifta #Carifta49 pic.twitter.com/wpiPpdmJcx

— Digicel Jamaica (@DIGICELJamaica) April 18, 2022
The British Virgin Islands ended the competition with four golds, two silver and a bronze while Trinidad and Tobago ended with two golds, 11 silver and 10 bronze and Guyana had two gold, three silver and two bronze for the top five.
On the final day of competition, Jamaica swept the 4x400m relays to put the final point on the championships as the Under-17 boys won with 3:17.85 minutes, beating Trinidad and Tobago (3:18.89) and The Bahamas (3:21.35).
Guyana shines at the 2022 CARIFTA games...
🇬🇾 Four medals won so far... two Gold, and two Silver!
Here is Anisha Gibbons throwing a distance of 42.54 metres to win Guyana's second Gold at the games.#Guyana #CARIFTA2022 #Gold #Silver pic.twitter.com/6ErPXHZTSy

— Samuel Sukhnandan (@sukhnandangy) April 17, 2022
Rickoy Hunter, who was second in the Under-17 200m at the Carifta Trials in March and was fourth in the long jump earlier, created an upset after winning the 200m in 22.13 seconds.
St Vincent and the Grenadine's 100m bronze medallist Keo Davis took the silver in 22.19 seconds and 400m champion Marchino Rose was third with 22.26 seconds.
Jamaica's 4x100 metres relay team on the previous day, set a new women's under-20 world record. The quartet of Serena Cole, Tina Clayton, Brianna Lyston and Tia Clayton set a new best of 42.58sec at the National Stadium, beating the former mark set last year at the World Under-20 Athletics Championships of 42.94 set by another Jamaican team.
The team improved on the previous CARIFTA Games record of 44.03 set 11 years ago by the Jamaica team which featured Shericka Jackson and Christania Williams.
🎥: Watch the New WORLD RECORD of Team Jamaica 🇯🇲 at Carifta Games 2022

👏🏻👏🏻👏🏻👏🏻👏🏻👏🏻👏🏻

NEW WORLD U20 RECORD
GIRLS 4x100mts: 42.58 seconds

Congrats @jamaicaolympic @CariftaTandF pic.twitter.com/B0Z8CRHOss

— Panam Sports (@PanamSports) April 18, 2022
Barbados claimed silver in 45.36 and Trinidad and Tobago were third in 46.12.
Tina Clayton, the world junior champion, also won the women's 100m in 11.22 in front of her twin sister Tia, who took silver in 11.30 while Trinidad and Tobago's Shaniqua Bascombe took bronze in 11.57.
OMG 😱 Jamaica 🇯🇲 shatter world U20 4x100m record at Carifta Games 2022

Congratulations Serena Cole, Brianna Lyston, Tia Clayton and her twin sister Tina Clayton

@teamjamaica @jamaicaolympic pic.twitter.com/TYOGvDRTua

— Panam Sports (@PanamSports) April 18, 2022
Jamaica's under-20 men's team of Bouwahjgie Nkrumie, Bryan Levell, DeAndre Daley and Sandrey Davison won the 4x100m relay title too with a new CARIFTA Games record of 39.15, beating the previous best set in 2014.
The Bahamas and Cayman Islands finished second and third in 40.41 and 40.72, respectively.
Daley led home a Jamaican one-two in the men's 100m in 10.23, with Nkrumie taking silver in 10.28.
Zachary Evans of The Bahamas took bronze, crossing the line in 10.45.
J'Voughnn Blake followed up his 1500 metre triumph by taking the Under-20 boys 800 metres in 1 minute, 49.89 seconds.
Jamaica's J'Voughnn Blake on Monday strides away from the field to win the boys' Under-20 800m to complete his double, having bagged the 1,500m a day earlier. | Jamaica Observer PhotoMeanwhile, the British Virgin Islands protoje Adaejah Hodge who grabbed her third gold medal of the meet after clocking 23.42 to win the Under-17 girls 200 metres, won the Austin Sealy Award for being the Most Outstanding Performer over the three days of competition.
She also captured the Under-17 girls 100m in a record time of 11.29 seconds and the Under-17 girls long jump with a leap of 6.20 metres.