Swiss Reggae Band Lauwarm asked to stop Performing after a "Cultural Appropriation" charge.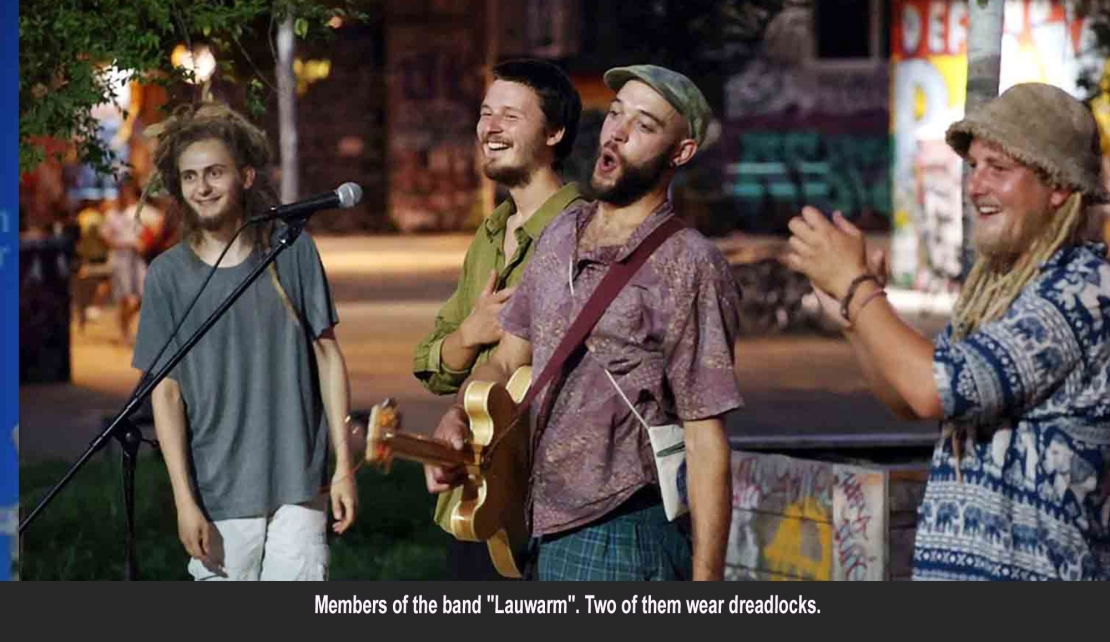 MONTEGO BAY, July 30, 2022 - It is referred to as "Cultural Appropriation," and seems to be an emerging academic terminology in Europe, closely linked to the concepts of "cancel culture" and "wokeness".
None of Jamaica's great music musical ambassadors, from Bob Marley, Bunny Wailer, and Peter Tosh to Toots Hibbert, Dennis Brown and Jimmy Cliff, would ever take any comfort in hearing that an overseas reggae band was asked to stop playing the iconic Jamaican music because its white band-members were sporting dreadlocks and wearing partly African ethnic clothing. Thats just not Jamaican!
The bizarre occurrence took place on July 18, when the Swiss reggae band Lauwarm was playing at the Brasserie Lorraine restaurant in Bern, Switzerland. The band plays Jamaican music, sings in Swiss dialect and wears partly African ethnic clothing and dreadlocks.
Apparently, the band's attire seemed to have upset some visitors, with "several people" expressing "discomfort with the situation".
According to the restaurant, which posted the report of the incident on its Facebook page on July 25, It's a matter that has to do with what is referred to as "cultural appropriation".
Brasserie Lorraine Restaurant in Bern, Switzerland After a conversation with the band, the restaurant decided to cancel the concert. The restaurant apologised to "everyone for whom the concert had caused bad feelings". The following day it issued a statement indicating that "that members of the band or white people are not automatically racists".
According to the critics, the "cultural appropriation" was about Lauwarm playing Jamaican Reggae music, although they themselves have never experienced colonialism or racism.
In a Facebook post, The Brasserie reportedly issued another statement expressing regret about what had transpired.
"We would like to apologize to everyone who felt bad about the concert. We failed to deal with it enough in advance and to protect you. Our awareness gaps and the reaction of many guests to the cancellation of the concert have shown us once again that the topic is emotionally charged," they noted.
Lauwarm singer Dominik Plumettaz dismisses the accusations of cultural appropriation. "I understand that some people are sensitive to this issue, but music thrives on the mixing of cultures,"However, another report noted that Dominik Plumettaz, the band leader and singer, said the group had performed many times since it was formed a year ago but had never received complaints about appropriation.
"We were completely surprised. When we played, there was a good atmosphere," adding that during the break, the restaurant told them about the complaints.
"After that, we felt uncomfortable and decided to stop. Unfortunately, the critics did not come out publicly and we couldn't have a conversation with them, which we regret," he said.
In dismissing the accusations of cultural appropriation, Plumettaz also said that he understood that "some people are sensitive to this issue, but music thrives on the mixing of cultures".
"We treat all cultures with respect, but we also stand by the music we play, our appearance and the way we are," the band also wrote on its Instagram account.
"It's important to us that we have this discussion – neutral and based on respect," the lead singer of the band said.
The restaurant also wants to continue the thread and is planning a panel discussion on the topic.
The case is making waves in the media beyond Swiss borders. In Switzerland's social media, "cultural appropriation" is currently the most discussed topic. It is closely linked to "cancel culture" and "wokeness".
The former means the dismissal of controversial people by not giving them a platform, while Wokeness describes awareness of social inequalities such as sexism and racism.
The reggae band "Lauwarm" sing their songs in Swiss German. https://www.instagram.com/lauwarm_musicThe Tages-Anzeiger newspaper writes: "The Black Lives Matter movement has taken hold of the youth here. For them, European colonialism is present, continues to work in the underbelly of society.
The explosive thing is that here a white band is taken off stage in a majority white context. This is what wokeness looks like in Bern." 
According to the Encyclopaedia Britannica, "Cultural Appropriation" refers to the exploitative, disrespectful or stereotypical adoption of foreign cultural techniques and symbols.
Other definitions see "cultural appropriation" as occurring when members of a dominant, usually white, culture use elements of a minority culture that they had systematically suppressed, such as Africans or Native Americans.
In addition to Native American carnival costumes, the wearing of dreadlocks by whites is a frequently cited example of cultural appropriation.
The charge of cultural appropriation in the music industry is an old one. Many white producers – and artists like Elvis – made money off songs sung by black composers that otherwise were unheard of. White rapper Eminem has also been embroiled in the debate, as has British reggae band UB40, whose white and black members have made fortunes on pop versions of Jamaican classics.